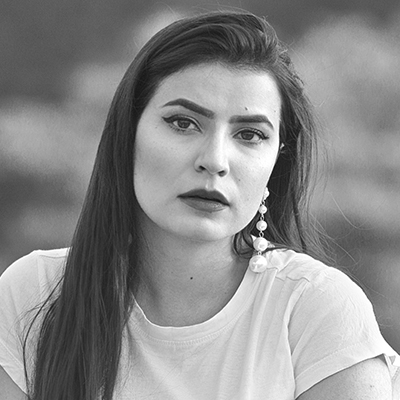 Amna Yaseen (born 1993) is a visual artist, photographer and research scholar currently based in Lahore, Pakistan. She completed her BFA in Visual Arts from the Institute of Design and Visual Arts, Lahore College University for Women University in 2015. She then went on to pursue and complete an M Phil in 2019 from the same institute where she conducted groundbreaking research on the subject of 'Development of Photography in Pakistan since 1947'.
Amna has consolidated her reputation as a Street and Social Documentary photographer as well as a leading practitioner of conceptual self-portraiture in the country. Her work has been displayed locally and internationally in 27 photographic exhibitions in Lahore, Karachi, Islamabad, Quetta, Manchester, Rome, Tokyo, UAE, Vienna, Cambridge, South Korea and New York from November 2014 to April 2022. She was awarded the Asahi Simbun Medal at the 77th International Photographic Salon of Japan. She has had three of her photographs published in National Geographic, Your Shot consecutively in 2015, 2016 and 2017. Her work was part of Ras Al Khaimah Arts Festival at National Museum RAK, UAE in 2018, Global Images for Global Crisis exhibition and book at ICP New York in 2020, Asia Triennial Manchester, 2021. Amna was one of the participants in a residency at KPK "Climate Change & Art: A Practitioner's Retreat" in 2018 by Gallery 6, Islamabad and has produced numerous research papers on art and photography, including a few presented at the 7thInternational THAAP Conference and Punjab Press Council Photography Conference in 2016. She has also been part of numerous projects, holding photographic workshops in various institutions of Pakistan, working on books with local and international publishers, working on video documentaries, coordinating photography contests as a consultant for USAID, Water Aid, carrying out photo assignments for Agence France- Presse. 
Select artworks of hers are housed within the permanent collection of the Ambiance Boutique Art Hotels.
Read less
Amna Yaseen (born 1993) is a visual artist, photographer and research scholar currently based in Lahore, Pakistan. She completed her BFA in Visual Arts from the Institute of Design and Visual Arts, Lahore College University for Women University in 2015. She then went on to pursue and complete an M Phil in 2019 from the same institute where she conducted groundbreaking research on the subject of 'Development of Photography in Pakistan since... Read more