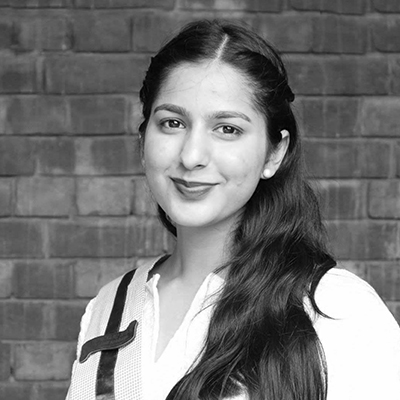 Asavir Nadeem (born 1997) is a visual artist, with a background in Theatre and Literature currently based in Lahore, Pakistan. She completed her BFA from the National College of Arts, Lahore in 2021 specialising in Miniature Painting with minors in Photography, Animation, and Art Curation receiving an Honours for her efforts. Asavir has been the recipient of a scholarship to the Global Undergraduate Exchange programme and won the award for 'Best Contemporary Drawing' and the Union Purchase Award at the Annual Jury Exhibitionin 2019.
Asavir's work investigates disassociation across intimate and public spaces and the role of mark-making in relation to our personal and collective memories. Her work has been exhibited locally and internationally in the Annual Jury Exhibition, Lawton Gallery, Wisconsin in 2019; Annual Thesis Exhibition, National College of Art Lahore in 2021; Broadcast I at O Art Space, Lahore in 2021; 'The Lens and the Pen' at Tasweer Ghar, Lahore in 2021; Emerging Talent Exhibition, VM Art Gallery', Karachi in 2022, and 'Time for Recess' Muse Gallery, Lahore in 2022. Asavir's work has also been published in Artmaze Magazine's 23rd issue as well as other international magazines. She is currently involved in various independent artistic projects, working as a researcher, creative director, and project manager.
Her artwork is housed within the permanent collection of the Ambiance Boutique Art Hotels.
Read less
Asavir Nadeem (born 1997) is a visual artist, with a background in Theatre and Literature currently based in Lahore, Pakistan. She completed her BFA from the National College of Arts, Lahore in 2021 specialising in Miniature Painting with minors in Photography, Animation, and Art Curation receiving an Honours for her efforts. Asavir has been the recipient of a scholarship to the Global Undergraduate Exchange programme and won the award for 'Best Contemporary... Read more