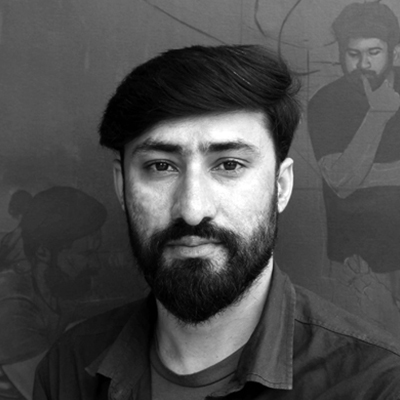 Javaid Iqbal Mughal (born 1987) is a visual artist based in Lahore, Pakistan. He started his career as Cinema Board Painter at Royal Park Lahore, Lahore. Javaid went on to learn traditional calligraphy and graphic design while also maintaining a keen interest in figurative and realistic painting. He completed his BFA from the College of Art and Design, University of the Punjab, Lahore in 2015 where he received a distinction for his efforts. Javaid then went on to pursue an MA (Hons.) in Visual Arts from the National College of Arts, Lahore in 2018 where he was awarded a merit scholarship.
         Javaid was also awarded the 14th 'Annual Emerging Talent' Art Prize at VM Art Gallery, Karachi in 2015, as well as the Adcom Leo Burnett Merit Prize from Arjumand Painting Award at Gallery6, Islamabad in 2017. He went on to win the third prize at the Arjumand Painting Award from Gallery 6 at Islamabad Art Festival, Islamabad in 2019 and was selected for the Artrooms Awards at Le Dame Art Gallery, London, the United Kingdom in 2019. Javaid was one of the 'Feature Emerging Artist' in APERO CATALOGUE, California, the United States of America in 2019. He has also displayed his work in TAKE OFFthe Alhamra Annual Art Exhibition by Young Artists at the Alhamra Art Gallery, Lahore in 2018. Javaid has participated in numerous group exhibitions locally and internationally in the USA and UK.
          His artwork is in the permanent collection of the Ambiance Boutique Art Hotels, Lahore.
Read less
Javaid Iqbal Mughal (born 1987) is a visual artist based in Lahore, Pakistan. He started his career as Cinema Board Painter at Royal Park Lahore, Lahore. Javaid went on to learn traditional calligraphy and graphic design while also maintaining a keen interest in figurative and realistic painting. He completed his BFA from the College of Art and Design, University of the Punjab, Lahore in 2015 where he received a distinction for his efforts. Javaid then went on to... Read more