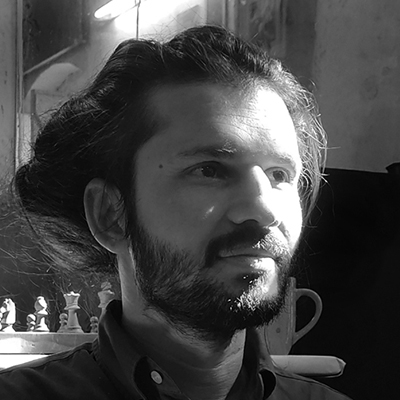 Qadir Jhatial (born 1986) is an interdisciplinary artist currently based in Lahore, Pakistan. He completed his BFA from the National College of Arts, Lahore in 2011 where he received a Distinction for his thesis project. He went on to pursue and complete an MA in Art and Design from the Beaconhouse National University, Lahore in 2020 and was awarded the UNESCO scholarship of the Madanjeet Sing Institute for South Asian Arts (UMISSA) and a Distinction in his thesis project. 
 Qadir's inquiry centres on questions such as 'what is a representation of an image?' as he moves to investigate how an image is viewed, read, and interpreted in the present age of overwhelming information and knowledge. Through his artistic career, his practice has evolved from an exercise in pure painting to a multi-disciplinary methodology that goes beyond conventional painting and drawing techniques, and moving towards the use of interactive expression incorporating performative and digital media elements. He is currently one of the featured artists of CollaborARTISTS, 2021 a commission project supported by Arts Council England. Qadir is also preparing a body of artworks for an upcoming solo exhibition, which will take place later in 2021. He has extensively exhibited his artworks locally in Lahore, Karachi, and Islamabad. Qadir is also actively engaged with a number of academic projects.
Select artworks of Qadir's are housed within the permanent collection of the Ambiance Boutique Art Hotels.
Read less
Qadir Jhatial (born 1986) is an interdisciplinary artist currently based in Lahore, Pakistan. He completed his BFA from the National College of Arts, Lahore in 2011 where he received a Distinction for his thesis project. He went on to pursue and complete an MA in Art and Design from the Beaconhouse National University, Lahore in 2020 and was awarded the UNESCO scholarship of the Madanjeet Sing Institute for South Asian Arts (UMISSA) and a Distinction in his thesis... Read more