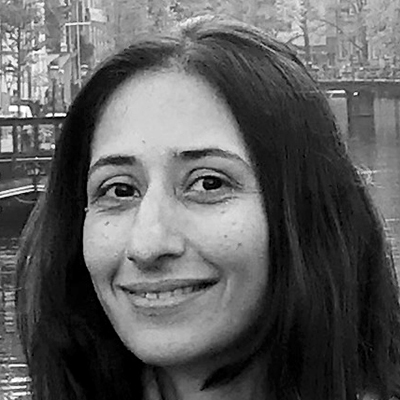 Sara Suleman (born 1983) is a multi-disciplinary artist and designer currently based in Karachi, Pakistan. Sara completed her BA in Graphic Design and Creative Writing from Moravian University, Pennsylvania, USA. Sara then went on to pursue and complete an MFA in Film and Media Arts from Temple University, Philadelphia, Pennsylvania, USA. She also holds an Advanced Diploma in Interior Decoration and Design from the Indus Valley School of Art and Architecture, Karachi, Pakistan where she also attended several design workshops including a 3D Design foundation course and Constructing Atmospheres workshop. She was also part of the Sideline Drawing workshop and Paper Relief workshop organized by the Vasl Artists' Association, Karachi amongst others.
Sara's art practice includes site-specific art, installations and designs for interior spaces. She also works in the mediums of digital media, installation, digital collage and mixed media. Sara has exhibited her pieces locally and internationally such as at Artists for Flood Relief Initiative Online in 2020, Sensory Perceptions curated by Scheherezade Junejo at Full Circle Gallery, Karachi in 2020; Focal Point in Vasl Artists' Association Showcase, at SAF Art Book Fair in collaboration with Sharjah Art Foundation, Sharjah in 2019; Karachi ke Nazaaray in Creative Karachi Festival 2019 curated by Shaheen Jaffrani at Alliance Francaise Gallery, Karachi in 2019; Potpourri XXXI curated by Shakira Masood at Art Chowk Gallery, Karachi in 2018; Summerscape at Koel Gallery, Karachi in 2016; Fresh, Artists 30 and under curated by Amin Gulgee, Saba Iqbal and Raania Azam Khan Durrani at Amin Gulgee Gallery, Karachi in 2014; Erasing Borders, Exhibition of Contemporary Indian Art of the Diaspora, by Indo-American Arts Council curated by Vijay Kumar, at Queens Museum of Art, New York, Stony Brook University, New York, Aicon Gallery, New York, and University of Connecticut, Storrs, in 2011; Philadelphia Asian American Film Festival in 2011; Los Angeles Asian Pacific Film Festival in 2011; and San Francisco International Women's Film Festival in 2010. Select press coverage of her includes "Still Life for the Instagram age," Libas Now, February 16, 2020; Sensory Perceptions Exhibition Review, Nigaah Magazine, April 2020; "All about Summerscape," Dawn, June 10, 2016; and "The Straddling Art of the Indian Diaspora," Wall Street Journal, August 16, 2011.
Sara's artwork is housed within the permanent collection of the Ambiance Boutique Art Hotels.
Read less
Sara Suleman (born 1983) is a multi-disciplinary artist and designer currently based in Karachi, Pakistan. Sara completed her BA in Graphic Design and Creative Writing from Moravian University, Pennsylvania, USA. Sara then went on to pursue and complete an MFA in Film and Media Arts from Temple University, Philadelphia, Pennsylvania, USA. She also holds an Advanced Diploma in Interior Decoration and Design from the Indus Valley School of Art and Architecture, Karachi,... Read more