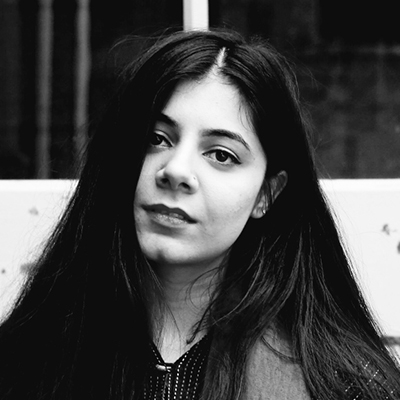 Tooba Ashraf (born 1994) is a visual artist, researcher, and educator currently based in Lahore, Pakistan. She completed her BFA from the National College of Arts, Lahore in 2018 specialising in Painting with minors in Conceptual Photography, Site-specific Sculpture, Performance Art and Basic Clay Making and received a distinction for her efforts. Tooba was also awarded a merit scholarship during her baccalaureate programme. She then went on to pursue and complete an M Phil in Cultural Studies from her alma mater in 2023.
Tooba's pieces have been displayed and published in various galleries and publications locally, most notably at Be(coming to the Museum), a site-specific intervention organised by MDSVAD, Beaconhouse National University, Lahore at Lahore Museum, Lahore in 2023; and Samsāra at Full Circle Gallery, Karachi in 2023 as a culmination of her Vasl-KKAF Research Grant 2022–2023. Tooba has also secured First Prize in the Painting Division in the We the People, We the Arts, art competition which was organised jointly by the United Nations and Swiss Development Corporation at the Swiss Embassy Islamabad in 2016 and was awarded in the competition's, second iteration by the Jury's unanimous decision, 'Highest Commendation for Excellence' in 2018. She was a resident of Taza Tareen 14, Vasl Artist Association, Karachi in 2022, as well as the Tasweer Ghar's Annual Residency, Tasweer Ghar, Lahore in 2018. Alongside these endeavours, she conducted social science research for the anthology Waba ke Dor Mein (In the Time of Pandemic) and Between Quarantine and Quest, publications by Vasl Artist Association, Karachi in 2021 and 2022 respectively. Tooba is currently working as a Project Assistant at OSCH, Lahore and as a Visiting Faculty Member at various institutions including the National College of Arts, Lahore.
Select artworks of Tooba's are housed within many notable local and international collections including the permanent collection of the Ambiance Boutique Art Hotels.
Read less
Tooba Ashraf (born 1994) is a visual artist, researcher, and educator currently based in Lahore, Pakistan. She completed her BFA from the National College of Arts, Lahore in 2018 specialising in Painting with minors in Conceptual Photography, Site-specific Sculpture, Performance Art and Basic Clay Making and received a distinction for her efforts. Tooba was also awarded a merit scholarship during her baccalaureate programme. She then went on to... Read more