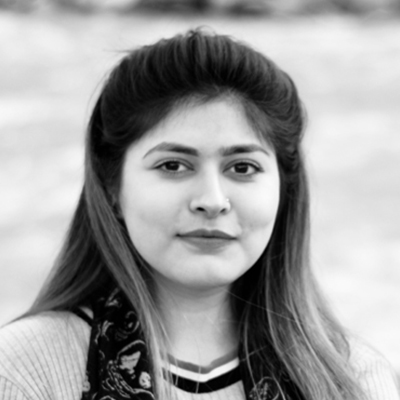 Zainab Aziz (born 1996) is a visual artist currently based in Lahore, Pakistan. She completed her BFA from the College of Art and Design, University of the Punjab, Lahore in 2017, specialising in Painting where she received a distinction and the Gold Medal for securing the first position. Zainab then went on to pursue and complete an MA in Visual Arts from the National College of Arts, Lahore and received a distinction for her efforts.
Zainab had her first solo show at O Art Space, Lahore in 2019. She has participated in various group shows locally as well as internationally, including Doha Visual Art Center, Qatar in 2020;  the Artroom's Fair London, United Kingdom in 2019;  Fabriano Aquarello, Italy in 2018; Singapore Art Council, Singapore in 2018;  Jakarta Arts Club, İndonesia in 2017; Kucukcekmece Belediyesi, Turkey in 2016; and National Museum of Tanzania, Tanzania. She has also participated in various group shows in different cities of Pakistan as well. Zainab's work has been published in different magazines such as Blue Bee Magazine, London; Artroom Affairs, United Kingdom; Nigaah Art Magazine, Somewhere in Pakistan, and Sunday Times, Pakistan. She was selected for the Doha Youth Innovation Award, 2020. Zainab also received the Best Artwork of the Year Award from the Punjab Council of the Arts in 2020.
Zainab's art revolves around themes of the fragility of secrets and the idea of trust. She believes her experiences of deception have altered her perceptions of life. This is clearly visible in her artworks where she uses the visual language of faded colours to convey mistrust and hurt. Although the choice of pursuing painting as a major was challenging, 2D realism has always intrigued Zainab and has been central in influencing her style.
Her artwork is housed within the permanent collection of Ambiance Boutique Art Hotels.
Read less
Zainab Aziz (born 1996) is a visual artist currently based in Lahore, Pakistan. She completed her BFA from the College of Art and Design, University of the Punjab, Lahore in 2017, specialising in Painting where she received a distinction and the Gold Medal for securing the first position. Zainab then went on to pursue and complete an MA in Visual Arts from the National College of Arts, Lahore and received a distinction for her... Read more